I had an amazing time doing my first Art workshop with the local school. The 2 hour sessions were held over 2 days. Thursday 26.07.2019 and Friday 27.07.2019. The workshops included introductions, brief history about studionAme, some art and craft activities, and studio tour. I was blown away by how bright the children were. The questions, the engagement among themselves was very satisfying.

Thursday
We made a Lions head, using paper plate, coloured cards and a little bit of luck. Here are some picture from the day.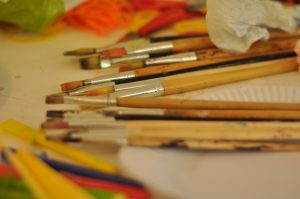 Friday
We worked on exploring abstract style in painting. After selecting an image or a subject of their choice. The chicldren were encouraged to segment the background. Here are some pictures from the event.